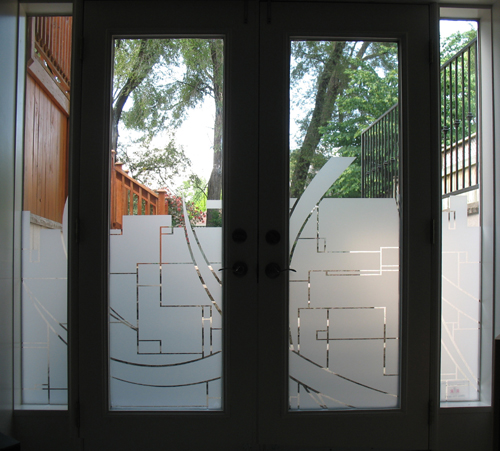 More and more Toronto area homeowners are requesting graphic cut window films. Once considered only for commercial applications, like window lettering, graphic cut window films offer even more in terms of aesthetic benefits for residential applications.
Graphic films can simulate the look of etched or sandblasted glass at a fraction of the cost. An added benefit to window film, unlike chemical etching or sandblasting of glass, is that the process is reversible.
Apex Window Films will work with you to select the most suitable decorative film for your home, and using our high-tech computer plotting and cutting system, create a window graphic that matches your individual taste and decor. (click here to visit our decorative film gallery)
The range of possibilities are endless! Apex Window Films will appropriately size and precision cut your graphic. Having installed hundreds of window graphics throughout the GTA, our expert graphic film installers will meticulously apply the graphic film in your home. If you need some inspiration, Click Here to visit our Residential Custom Grphics Idea Gallery.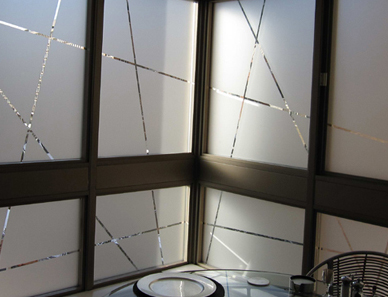 Looking for Commercial Graphics? Please click here
Toronto Residential Graphic Window Film Client Gallery
Click on the sample below to see a larger, more detailed image of the window graphic.
Homeowners may also wish to view our Residential Before and After pictures.
Cool Kitchen Graphic
Custom Graphics in Doors
Flower Nymphs
Grapes on a Vine
Detail Look at Grapes
Stars in Frost
Stars in Frost Theme Continuation on Door
Stripes & Squares Pattern in Frost
Custom Graphic "Crescents" Double Doors + Sidelights
Close-Up of "Crescents"
"Crescents" in Fully Frosted Patio Door
Sidelights Frosted for Privacy
Close-Up of Sidelights with Cut-Outs for a Textured Look
Sidelight with More Detailed Cut-Outs
Corner Accents
Shoji Screen Film "Reverse Blinds" Effect
Using Graphic Cut Star to Blend Half-Up Privacy Film
Close-Up of Star Graphic Cut into Frost
Dragon Graphic
Residential Privacy Interior View
Exterior View
"Steps" Achieved with 3 Colours
Labyrinth in Frost
French Door with Window Film; Appearance of Bevelled Glass
Close-Up of Bevelled Glass Look on French Door
CLICK HERE to view our Graphic Idea Gallery
Strength and Beauty:
Most designer window graphics can be combined with our safety and security window laminates, to provide strength as well as beauty. Suitable for both home and business security. Contact Apex Window Films to learn more!