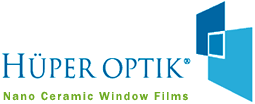 Hüper Optik® Ceramic films are 100% metal-free, 100% dye-free and will not demetallise or fade.
Ceramics are known to be the most durable material capable of enduring the harshest environments, on land and at sea.
There is a Hüper Optik Nano-Ceramic Film to suit your solar control needs. Contact Apex Window Films your Greater Toronto Area Hüper Optik dealer.
Hüper Ceramic 30

Visible Light Transmission (%)

34

Visible Light Reflectance (%)

11

Shading Coefficient

0.47

Total Solar Transmission (%)

23

Infrared Rejection (%)

85

UV Light Rejection (%)

99

Total Solar Energy Rejected (%)

61

Hüper Ceramic 40

Visible Light Transmission (%)

42

Visible Light Reflectance (%)

9

Shading Coefficient

0.53

Total Solar Transmission (%)

29

Infrared Rejection (%)

80

UV Light Rejection (%)

99

Total Solar Energy Rejected (%)

55

Hüper Ceramic 50

Visible Light Transmission (%)

50

Visible Light Reflectance (%)

10

Shading Coefficient

0.59

Total Solar Transmission (%)

42

Infrared Rejection (%)

68

UV Light Rejection (%)

99

Total Solar Energy Rejected (%)

49

Hüper Ceramic 60

Visible Light Transmission (%)

58

Visible Light Reflectance (%)

9

Shading Coefficient

0.65

Total Solar Transmission (%)

46

Infrared Rejection (%)

60

UV Light Rejection (%)

99

Total Solar Energy Rejected (%)

42