"Summer/Winter Window Film"
The Summer/Winter, Low-Emissivity window film is in a class by itself. This neutral, metallic lustre product is ideal for colder climates experiencing more heating system usage than cooling. Since it is a low-emissivity product, it keeps the heat from escaping through the glass when outside temperatures are cold, while keeping the heat from entering your environment during the summer months. Plus, it is one of the best films for fade reduction and glare control.
Low-Emissivity-Summer/Winter Film

1 Film In Series
Visible Light Transmitted 22%
Total Solar Energy Rejected 77%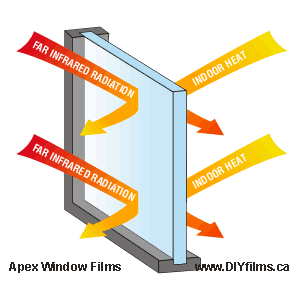 Low-Emissivity, or Low-E, refers to a coating on glass or window film that reduces heat loss through the window film. The lower the emissivity rating, the better the insulation characteristic of the glazing system in regard to heat loss.