Here are just a few examples of our satisfied Toronto area customers who have had premium quality decorative window films installed by Apex.
Residential Decorative Window Films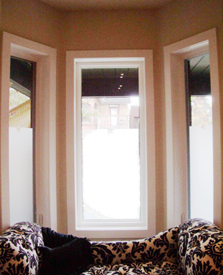 As you can see, decorative films enhance privacy while allowing natural light to flow in.
In this application the client has chosen an 'inverse-blinds' effect. Privacy blinds which typically pull down from the top, must be closed all the way to the bottom to act as an effective screen; Unfortunately, this blocks light and prevents occupants from seeing out. The application of window films from the bottom up, prevents curious eyes from seeing in while still permitting a view outdoors and plenty of natural light to pass through.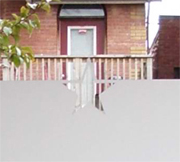 This reverse effect is also useful in blocking unsightly views, such as busy streets and rubbish bins, while permitting views of sky and trees.
Notice the use of graphics to blend the clear glass with the frost. For more examples of window film graphics click here
Commercial Decorative Window Films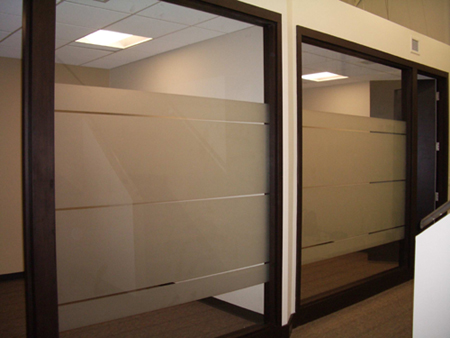 For many good reasons, glass is often the material of choice for interior office walls. It creates a sense of space and allows for the flow of light.
Many businesses discover, however, that glass does not provide enough privacy for their staff.
This client chose a decorative frost for office privacy. Instead of completely frosting the windows, however, they chose this popular bold graphic cut pattern. Staff can now work without distraction, and maintain an excellent level of privacy, yet remain a part of the office milieu.
Let Apex films help your business find the right balance between privacy and style with our wide selection of decorative films, and high tech graphic film cutting techniques.
Frosted Films Match Every Decor
In this example, another client with completely different interior colours and decor, chooses the same frosted privacy film, with the same graphic cut.
Note how the film blends nicely in each of these examples by translating interior colours through the frost.
Sanctuary Window
Not every church has stained glass windows that wants them. Stained glass windows are a traditional element of many churches, however, some new churches and church additions cannot yet afford to add this element to their buildings. You can see the impressive effect of faux stained glass achieved in this sanctuary using Apex decorative stain glass window film. This church selected the "Doves" pattern for their windows.
Another popular use for stained glass window films is in temporary sanctuaries - for example churches using commercial or industrial spaces during the building of a permanent structure.
Stylish Retail Window Security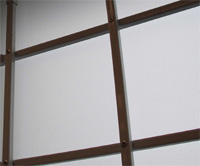 This client chose fixed steel burglar bars for their store security, a popular choice, particularly in retail establishments. The down-side of bars is they tend to create a cold, institutional appearance.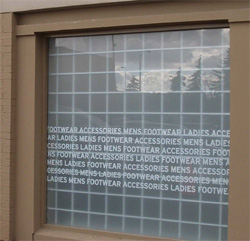 For this client, we added a frosted decorative film, and window graphics to successfully transform their barred windows; the look is now appealing, cool and trendy, yet secure.
Let Apex Window Films help you find the window protection solution that is right for your home or office. Our caring and experienced window film experts can provide you with a broad range of options and creative solutions to suit your unique needs.
For more information on our commercial and residential security products click here
Read what our Toronto area Clients have to say about Apex Window Films!