State of the Art Nano Ceramic Solar Films
Provide Glass Protection Without Increased Reflectance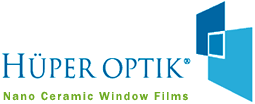 While solar films may be optically clear, they can be more reflective at night than they appear in daylight.
Look at any ordinary window pane at night time, depending upon the light source, you may see your reflection from either inside or out. Typical, untreated window glass on average offers about 9% reflectance. Solar films will tend to increase this reflectance level.
Apex now offers a window film which is no more reflective than ordinary glass. The Apex non-reflective window films are manufactured by Huper Optik, using their patented 'Nano Ceramic' technology to achieve high performance solar control with high visible light transmission. The light reflectance of these premium window films are kept very low, enhancing the view as it minimizes the distorting mirror effect created by some solar films.
Features and Benefits of Huper Optik Nano Ceramic Window Films:
Excellent Optical Clarity
Appearance of Glass not Affected
Enhances View
Superb Durability
High Solar Energy Rejection
High Ultra-Violet Rejection - Greater than 99%
100% Dye-Free & 100% Metal Free
Scratch Resistant Hardcoat*
Natural Tone with Low Reflectivity
10 Year Warranty
Increases Comfort
Minimizes Interference with GPS and Cellular Phones
Improved Glass Shatter-Resistance
Softens Light to Enhance Interior Aesthetic
Protects People and Property from Sun Damage and Fading
Huper Optik films offer the same benefits of our other premium solar protective window films, without increasing the reflectance of your glass. Because nano ceramic films are dye and metal free, there is no worry about window films fading or demetallizing over time.
*Huper Optik nano ceramic technology outperforms other
leading manufacturers for durability, visit our blog to
watch a video demonstration
of Huper Optik's superior scratch resistance
click here
Conserve energy and save money on heating and air conditioning; increase the comfort level of your home or business, protect interiors from fading and people from damaging UV rays with Huper Optik nano ceramic window films.
Huper Optik films qualify for LEED accredited points, download brochure